About Untouched Hokkaido
Although part of Japan, Eastern Hokkaido has a history and geography all of its own. It is located on the North American tectonic plate, and as a result is teeming with extremely rare flora and fauna. The region's local people have coexisted with its unique wildlife for generations, fostering a culture of respect for the national parks that its plants and animals call home. As such there are many places of nature that remain unspoiled by human hands – the essence of 'Untouched Hokkaido'.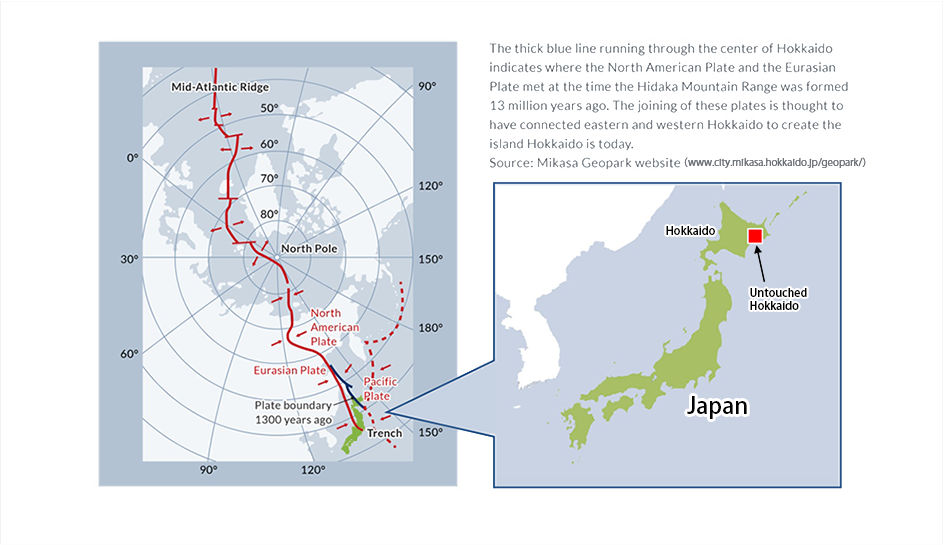 The thick blue line running through the center of Hokkaido indicates where the North American Plate and the Eurasian Plate met at the time the Hidaka Mountain Range was formed 13 million years ago. The joining of these plates is thought to have connected eastern and western Hokkaido to create the island Hokkaido is today.
Source: Mikasa Geopark website (city.mikasa.hokkaido.jp)
Information on This Website
This website provides a variety of information to help you plan your trip to eastern Hokkaido, including recommended sights, tours you can book and nature guides who will take you up close and personal with eastern Hokkaido's wildlife.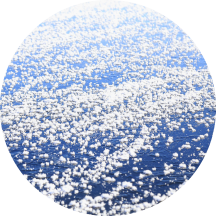 Explore
We've made a special video that tells the story of this untouched area of Hokkaido. Learn all about this incredible area.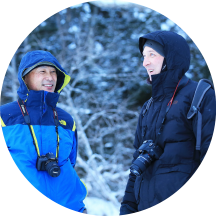 Tours
Book recommended tours in the Mizu no Kamuy Tourism Area and explore the best places in eastern Hokkaido.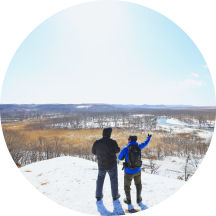 Nature Guides
These nature guides are well versed not only in eastern Hokkaido's nature, but in the history and the geography of the area too. They'll show you all the best spots!
Book a tour or just find out what Kushiro, Akan and Teshikaga have to offer!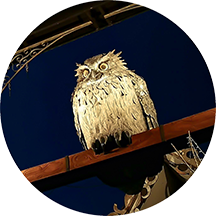 History and Culture
Find out about the history and indigenous Ainu culture of the Mizu no Kamuy Tourism Area (Kushiro, Akan and Teshikaga). There are many places in Hokkaido where you can learn about Ainu culture.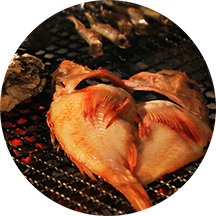 Local Food
Eat like a local! Find out about the foods that are popular in eastern Hokkaido, and unique foods that can only be found here.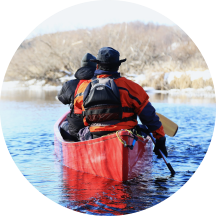 Things to Do
Take a sneak peek at the best things to do in the Mizu no Kamuy Tourism Area, and enjoy experiences like no other.
Our Mission
Our organization carries out tourism and community development initiatives in the Mizu no Kamuy Tourism Area, which encompasses Kushiro City (the Kushiro and Akan areas) and Teshikaga Town. Through collaboration with government bodies, businesses and local communities, we work to promote and preserve the region's unique attractions so that visitors can also experience Untouched Hokkaido's areas of natural beauty. Mizu no Kamuy is one of thirteen designated tourism areas within Japan, and is home to two national parks - Kushiro Shitsugen and Akan-Mashu. Plans for the parks emphasize a balance between their use and enjoyment by the public, and conservation - developing facilities to welcome visitors whilst also establishing restrictions to protect the ecosystem. A distinctive characteristic of Japan's national parks is the way in which they are protected by local citizens, and we intend to uphold this tradition.
We aim to promote the unique attractions of the region, including Lake Mashu, the only lake in the world which is registered as an international environmental monitoring station; nationally designated special natural monuments such as marimo moss balls and the world famous red-crowned crane, and the indigenous Ainu culture which maintains a philosophy of harmony with nature even to this day. We strive to create tourist destinations that attract visitors from around the world without disrupting their natural surroundings.
The area encompassing Lake Akan and Kushiro Shitsugen Wetland is Japan's largest wetland, protected by the Ramsar Convention as a site of international importance. It is home to unique flora and fauna as well as a winding river, giving rise to dynamic scenery unlike anywhere else on earth. Sadly, in recent years human activity in the surrounding area has caused rapid changes to the wetland's natural environment. As awareness of the importance of nature grows, a movement has emerged to protect that which remains, and restore as much as possible of that which has disappeared.
Conservation projects include restoration of the wetland and regeneration of the forest. A blueprint for future initiatives was drawn up in 2015, detailing plans to actively regenerate the nature that has been lost. The aims of the project are to rebuild natural habitats to prevent the extinction of native species, and to restore the water and green spaces that are a vital source of life for us all.
Management Office
Kushiro Shitsugen Wetland Area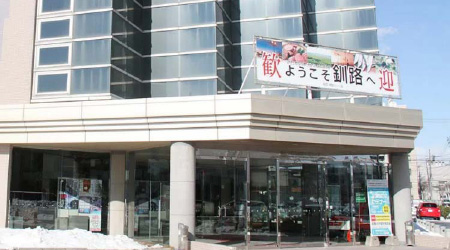 Kushiro Tourism & Convention Association
Address

3-3, Saiwaicho, Kushiro-shi, Hokkaido

Tel

0154-31-1993

Email address

mail@kushiro-kankou.or.jp

URL
Lake Akan Area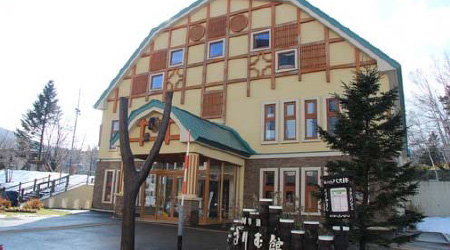 Akan Tourism Association & Community Development Organization
Address

2-6-20, Akancho Akankonsen, Kushiro-shi, Hokkaido

Tel

0154-67-3200

Email address

staff@lake-akan.com

URL
Lake Mashu Area
National Park Tourism Teshikaga Co., Ltd
Address

Kawayu Kanko Hotel, 1-2-30 Kawayu Onsen, Teshikaga-cho, Kawakami-gun, Hokkaido

Tel

015-483-2101

Email address

e-tabi@tourism-teshikaga.co.jp

URL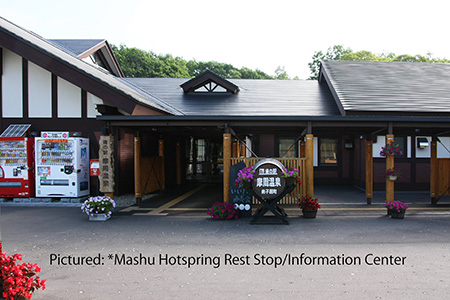 Lake Mashu Tourism Association
Address

Shoukou-kaikan 2F, Chu-ou 1-5-1, Teshikaga-cho, Kamikawa-gun, Hokkaido

Tel

015-482-2200

Email address

masyu_as@peace.ne.jp

URL