Explore East Hokkaido
Horse trekking
during the snowy season
Take a trip on horseback around Lake Kussharo and through the forest nearby. By the end of the trek, you and your horse will be best of friends!
Before you set out on this horse trek, you will care for your own horse to develop a rapport from the beginning. You will be accompanied by a guide, making this a great opportunity for young children to get to know horses. A major feature of Megere Farm's horse trekking program is that riders go out to meet their horse in its vast paddock. You'll even get to give your horse care such as brushing. Megere Farm's most popular trail leads through the forest and down to Lake Kussharo. You'll be taken by surprise by a stunning view of the frozen lake through the trees from the vantage point of your horse. If you go just after snow has fallen, you might even get to ride through fluffy snow!
A Closer Look
At the beginning, you're meeting a horse you've never seen before. By the end, you've fallen in love.
Megere Farm is a horse-riding facility located in a nature school by Lake Kussharo. The stables and fences are all hand-built. "Megere" is French for "wild horse", but don't be fooled – all of the horses here are sweet-natured and easy to ride. Before you set out, you'll get to know your horse by brushing it and putting on the saddle, with a guide teaching you everything you need to know. Megere Farm offers a completely different experience from other programs where you just get on a fully saddled horse and ride around in the paddock.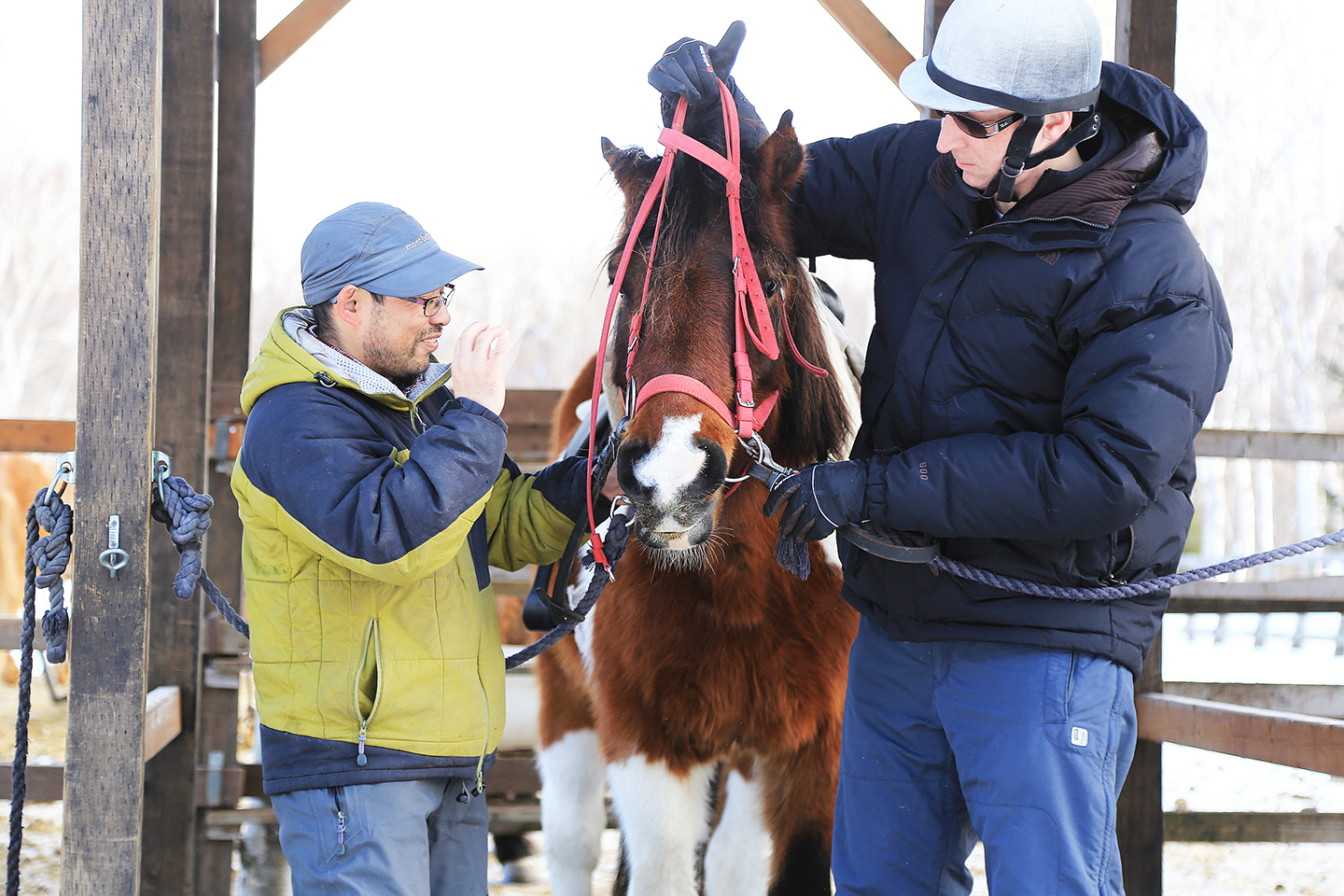 Manabu Ishii, Owner, Megere Farm (Certified as an instructor by the National Riding Club Association of Japan)
Address
〒088-3341
420-1 Kussharo, Teshikaga, Kawakami District, Hokkaido
Tel. 015-484-2282
Fax. 015-484-2132
http://www.megerefarm.info/